Driving to the alps is a great way to enjoy the beautiful scenery, reduce your carbon footprint, avoid the busy half term airports, ludicrously prices of flight tickets and get a few boxes of the good stuff… wine. The alps are easily accessible via an excellent network of motorways and by far the most flexible way to travel.
After speaking to previous guests who drove to the Alps and the Powder White experts, I have listed the top benefits for your knowledge.
Benefit of Driving
No luggage restrictions.
Ski holidays always involves a lot of bulky equipment such as ski boots, coats, salopettes etc which mean you have to pay the cost of taking less or pay the extra weight costs.
By driving, you can fill the car to the brim and purchase goods to bring home. That could be French wine, Swiss chocolate, new equipment or smelly cheese that the kids always complain about.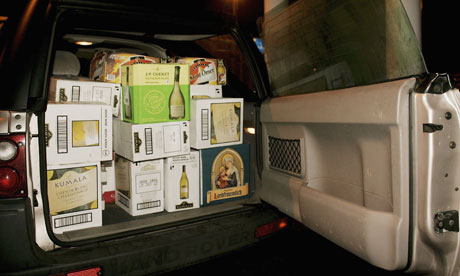 Save time, that's right!
In your head, you will always initially think flying only takes the time are up in the air flying. However, it is easy to forget the time it takes to get to an airport, check in, wait due to delays, wait for your luggage and get to the resort at the other end.
If there are two designated drivers you will be able to drive through the night at can get to resort within 12-14 hours (depending on where you come from and where you are going too).
Here is the duration, distance and estimated costs of a medium size petrol car from www.mappy.com 
If you have a medium size diesel car you will save an extra 30 euros on fuel.
Verbier
Val d'Isere
Meribel
Courchevel
St Anton
Save money
Over half term flights can cost a family around £250 per adult (15+) and that is before you have paid for the parking at the airport and costs to get to the airport.
Yes, you can get some get some great deals on flights and save money but key dates such as Half Term or Easter won't be the time to save money.
Powder White understands how annoying it is for family booking a holiday over Half Term. Prices go up, resorts are busier and you are set to those dates. However, we are offering special Half Term deals to try and get you out in the Alps and enjoying a
However, we are offering special Half Term deals to try and get you out in the Alps and enjoying a well-deserved family holiday.
"You can always make money, you can't always make memories."
Travel at your own pace
When driving you can leave the night before or at 3 am, whatever suits you, it is completely flexible. If you are not in any rush, you can break up the journey and stop off at charming local villages or convenient cities and enjoy a well-deserved rest.
Here are some of the popular places our previous guests stopped off at when heading to the Alps.
Reims – A popular stop-over city for French, Swiss and Austrian resorts. 
Ignore the old fashioned website, the quality is in the region and B&B.  Perfect for a small family of 5 or less, it is an ideal place to get some rest and pick up a couple of boxes of locally sourced produce.
Dijon – The heart of quality wine
Dijon is a charming, beautiful and exciting town for a layover, with plenty of good hotels and restaurants. We would recommend having a look at the
Dijon Tourist office with hotels and restaurants for more information.
For small groups or couples, Aux Quatre Saisons is a quaint B&B in the village Saint Nicolas Les Citeaux , outside Dijon. With rooms from €75 per night, you can discover the famous wine region of Burgundy, you will stay in an independent house dating from 1901, completely renovated for modern life comfort. They can organise daily wine tours of the Côte de Nuits and the Côte de Beaune. Highly recommended.
Strasbourg – Driving to St Anton?
Strasbourg is the capital city of the Alsace-Champagne-Ardenne-Lorraine region in northeastern France. Its Gothic Cathédrale Notre-Dame features daily shows from its astronomical clock and sweeping views of the Rhine River from partway up its 142m spire.
You can find your ideal accommodation on the Tourist board website.
Other benefits to diving…
With your car you can avoid the expensive resort supermarkets by taking your own staples from home and/or shopping in the cheaper supermarkets on the way or at the bottom of the valley.
Take your own skis and boards without paying airline surcharges.
And finally, one key point that everyone kept saying was… you can stock up on excellent quality, good value wine, champagne and French food on the way home.
HOWEVER…
If you are thinking about driving to the Alps there are these key factors you MUST remember…
Parking – Make sure you have a parking space. If you book with Powder White, we have specific parking spaces in each of our resort.
French Driving Law – When driving through France you must have:
Driving licence – yes, we have heard of people forgetting the driving licence after leaving it in their wallet back home.
Proof of vehicle ownership & Insurance – Print it out as it will speed up your process if you get pulled over.
Headlamp beam deflector – Remember you are driving on the right side of the road.
Breathalyzer kit – This is by law! Don't forget it.
Hazard warning triangle – This is by law! Don't forget it.
Spare set of car keys – because we have that scare when we lose a set of keys.
High-visibility waistcoats-This is by law! Don't forget it.
It is also worth getting snow chains and winter tyres as you never know what the conditions are going to be like.
If you would like more assistance or accommodation advice, please don't hesitate to get in touch with one of our holiday experts or simply search our website below!